GiveWise New Platform - Frequently Asked Questions
GiveWise has a new platform! The core experience and pricing will remain the same. The mission will remain the same: to multiply generosity and give you confidence in your giving.
Over the coming months you will see some fresh releases that will improve your experience. Thank you for your patience as we improve and expand our core product. It's going to be worth the wait!
In the meantime, here are a few quick steps and reminders!
FAQ's
Where can I access the new platform?
The new platform is accessed much the same as the previous platform, but with one simple change. You can visit www.givewise.ca and choose "Login" from the home page, or you can go directly to sign-in page by visiting fund.givewise.ca
How do I sign into my fund on the new platform?
The first time you log into the new platform, you will need to choose Forgot Password from the login page. Enter the email address linked to your Giving Fund. You will then receive a Password Reset Request email. If you do not receive this email in your Inbox, please look in your "Junk" or "Spam" boxes. If you still cannot see it, please contact us at support@givewise.ca or phone 604-302-1760 for assistance.
Will my previously set recurring grants and recurring contributions be set up in the new platform?
Any recurring grants and contributions can be viewed on the My Giving Fund page, under the Recurring tab. All existing transactions should remain set up.
Will there be any changes to my Tax Receipts?
You will only see minor formatting changes to your Tax Receipts. Everything else will be exactly the same!
Will I be able to see my contribution and grant history?
Your full contribution and grant history will be visible! You can now view all transaction histories in separate tables for Giving Wallet and Investment Account histories, which you can isolate by Grants, Contributions, and Balance Adjustments. You can also easily export the full history of either!
Can I still send donations via Interac eTransfer?
Absolutely! Please update the email address with which you send the Interac eTransfer to donations@givewise.ca
Why are some charity names different?
Charities have two registered names: a legal name and an operating name. We have updated the platform to point to the Operating Name, which is the name more often recognized. If you are having any issues finding a charity, contact us at support@givewise.ca and we will gladly help you find the charity you're looking for!
Does GiveWise have a mobile App?
The GiveWise native mobile App isn't ready yet, but we have an easy alternative to make our website act like an App and appear on your iPhone Home Screen.
Our website is fully mobile adaptive, and if you follow these few easy steps, you will be able to have a GiveWise icon on your Home Screen:
Open Safari on your iPhone, and search for "fund.givewise.ca" and follow the steps on the following 4 images: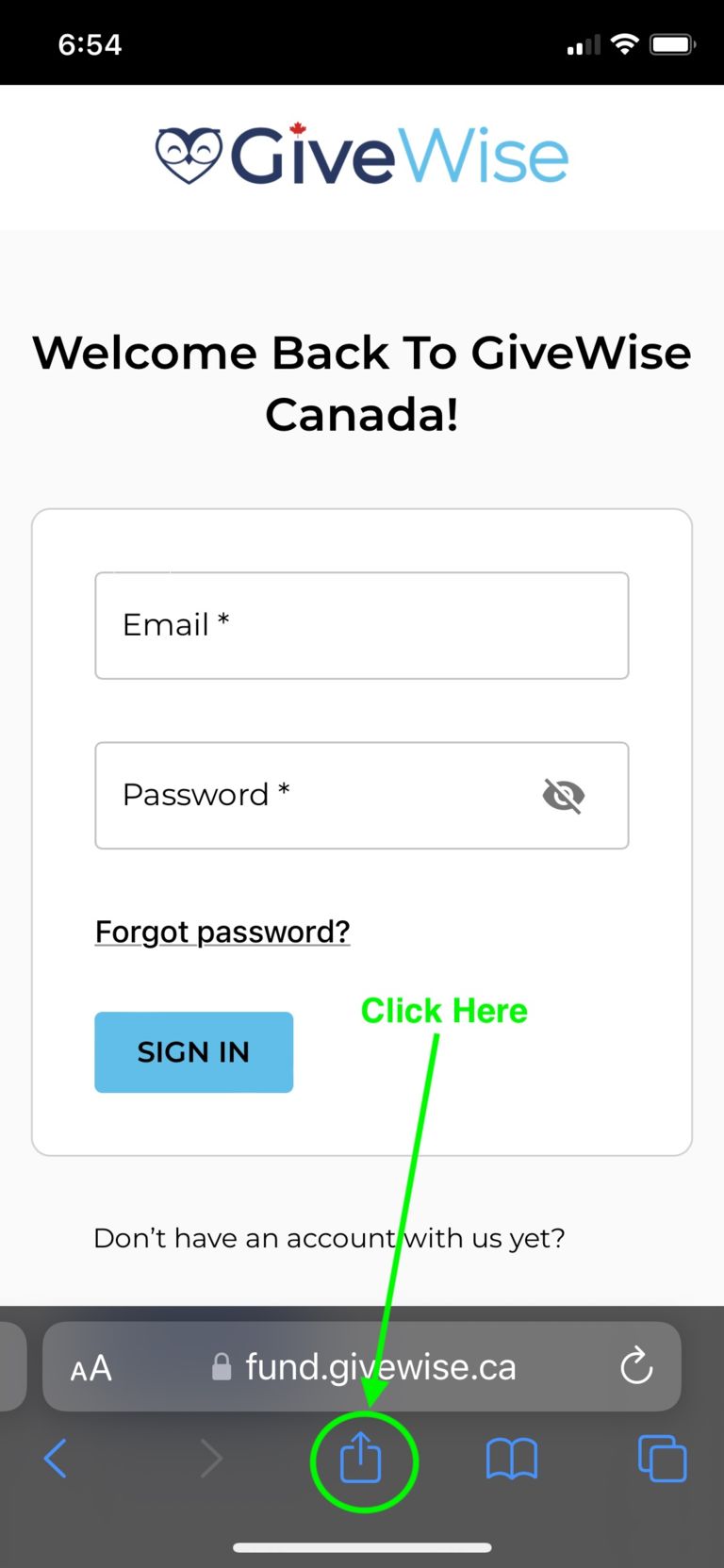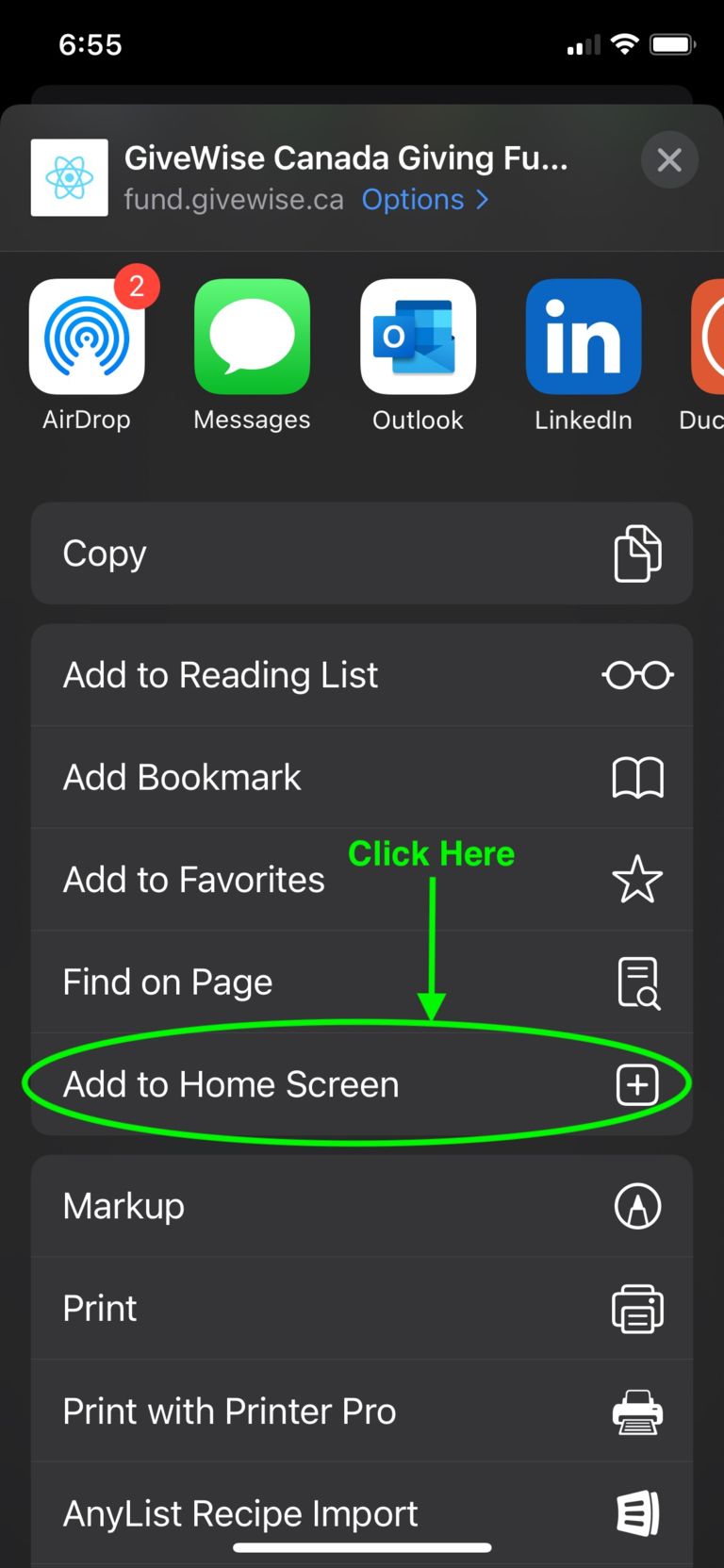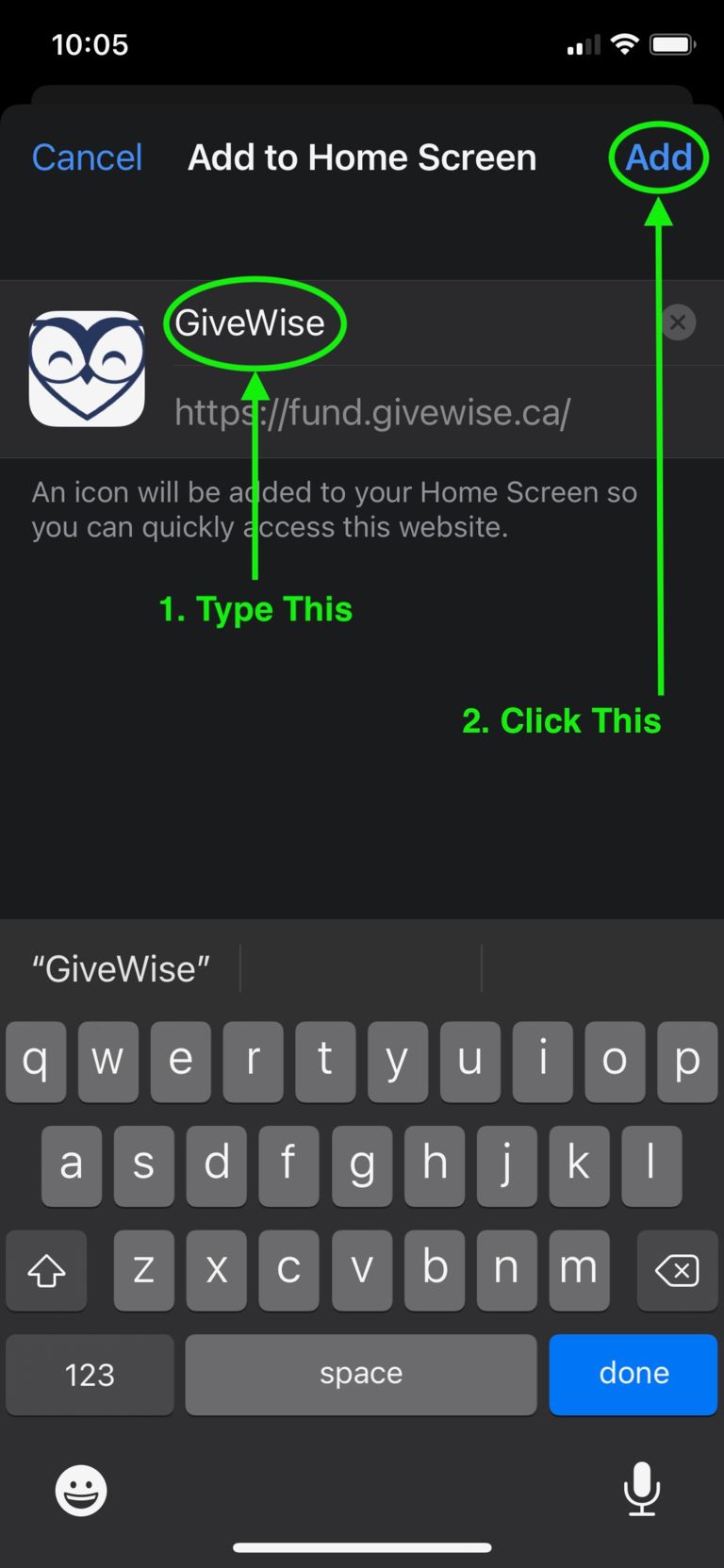 Once you have Clicked "Add", you should be able to find the icon as an App button on your phone's home screen!